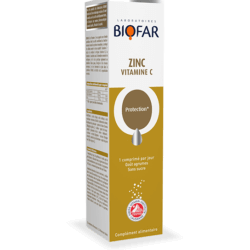 All year round, your body suffers external aggressions (cold, pollution, etc.). What are the consequences? Colds, transient weakness, acne, fragile skin, nails and hair, etc. Don't let yourself be overwhelmed ! Laboratoires Biofar have developed "Zinc Vitamin C" for you; a synergistic formula with a pleasant citrus taste, to support your immune system.
Optimum and balanced dosages of 100% organic zinc and natural vitamin C. Laboratoires BIOFAR have put together the necessary elements to help your body defence. Indeed, vitamin C and zinc participate in normal immune system function. Zinc is also involved in fertility, normal reproduction and contributes to the maintenance of normal skin, nails and hair.
Organic zinc for optimised absorption.
Natural vitamin C.
A synergistic formula.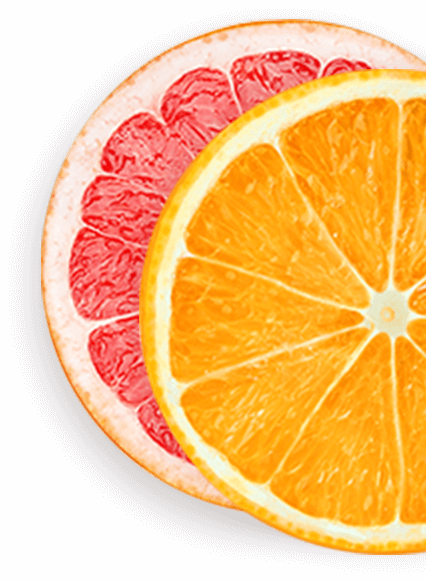 Weakened immune system

CHANGE OF SEASON

FERTILITY

SKIN-NAILS-HAIR
Nutritional analysis
Per tablet
RI*
Acerola powder
of which Vitamin C
500 mg
120 mg
-
150%
Zinc
15 mg
150%
*RI - Reference intake
Zinc Vitamin C is a food supplement reserved for adults.
1 daily tablet dissolved in a large glass of water, preferably in the morning after breakfast.
The bonus? One daily tablet for your immune system!
Biofar Vital products are sugar-free, aspartame-free, colour-free and have a pleasant fruity taste.
Ask your pharmacist or doctor for advice.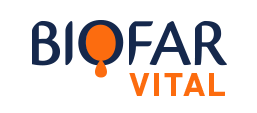 BIOFAR VITAL
IS THE CHOICE OF
EFFERVESCENCE FOR:
GREATER INGREDIENT CONCENTRATION
GREATER BIOAVAILABILITY
FASTER ACTION