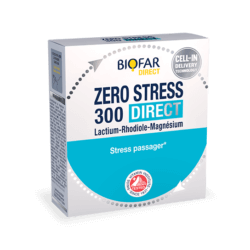 To combat transient stress
Stress is spreading and is one of the causes of worrying... It is vital to fight it! Laboratoires Biofar have developed "Zero Stress 300 Direct" for you, a rich and complete formula with a pleasant fruity taste, to help you improve your resistance to stress!
A combination of high-dose Lactium®, highly bioavailable rhodiola extract and magnesium, for an optimum effect... Laboratoires Biofar have gathered the necessary elements to help you fight stress.
A unique combination of Lactium®, which has been the subject of numerous scientific studies, rhodiola extract, 2 sources of highly bioavailable magnesium and complementary active ingredients (B vitamins, zinc and taurine).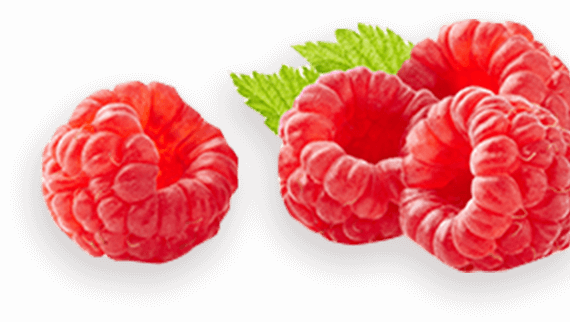 Stress

FATIGUE

EMOTIONAL DISORDERS

CONCENTRATION DEFICITS
Nutritional analysis
For 2 sticks
RI*
Lactium®
Taurine
L-glycine
300 mg
200 mg
200 mg
-
-
-
Rhodiola extract
(dry plant equivalent)
40 mg
280 mg
-
Magnesium
Zinc
300 mg
10 mg
80%
100%
Vitamin B1
Vitamin B2
Vitamin B3
Vitamin B5
Vitamin B6
Vitamin B8
Vitamin B9
Vitamin B12
2,2 mg
2,8 mg
32 mg
12 mg
2,8 mg
100 μg
400 μg
5 μg
200%
200%
200%
200%
200%
200%
200%
200%
Phyto-Matrix™
of which polyphenols
240 mg
56 mg
-
-
*RI - Reference intake
Zero Stress 300 Direct is a food supplement reserved for adults.
1 to 2 sticks per day to be taken without water preferably in the morning after breakfast and after lunch.
7-day programme, renewed several times throughout the year if necessary.
The bonus? Very practical presentation, easy to carry and needs no water!
BIOFAR Direct products are sugar-free, aspartame-free, free-from artificial coloring and and have a pleasant fruity taste.
Ask your pharmacist or doctor for advice.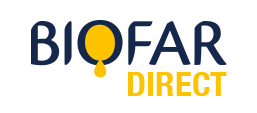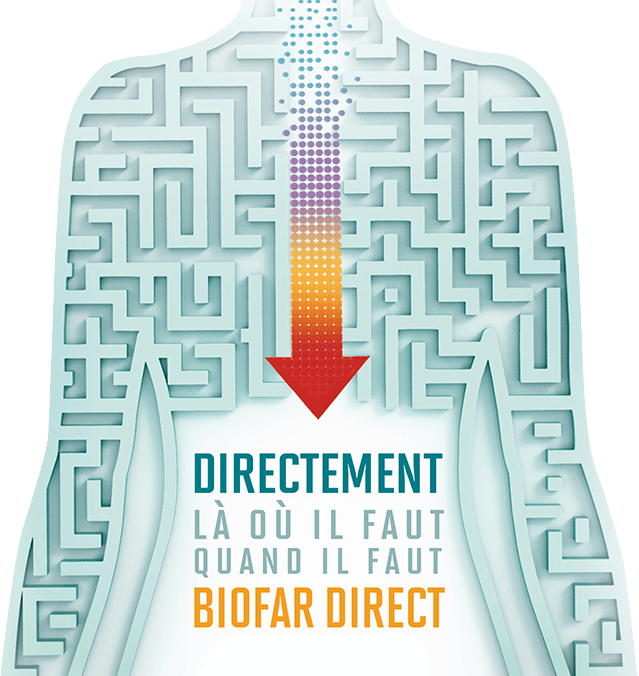 BIOFAR DIRECT
IS THE CHOICE OF A PRACTICAL
STICK FORM FOR:
EASY TO TAKE, NO WATER REQUIRED
A NATURALLY FRUITY TASTE
TARGETED EFFECTIVENESS