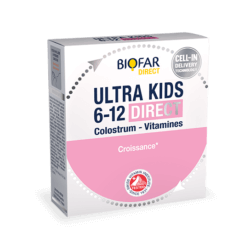 For the growth of your children
The 6-12 year age period is an important period of growth for your children. Many changes occur at this age: learning, growth, extra-curricular activities, etc. Your children exert themselves a lot, requiring special attention to provide them with essential nutrients for their development. Laboratoires BIOFAR have developed "Ultra Kids 6-12 Direct" for you, a rich and complete formula with a pleasant fruity taste, for their growth.
Optimum and balanced dosages in colostrum, vitamins, minerals and choline to meet the needs of children… Laboratoires BIOFAR have put together the necessary elements to ensure your child's balanced growth... Iodine contributes to normal growth and iron to normal cognitive development. Vitamin D is necessary for normal bone growth and development. In fact, Laboratoires BIOFAR colostrum provides a high content of immunoglobulins and cytokines.
A high-purity and concentrated colostrum.
Optimum and highly bioavailable dosages.
Exclusive innovation: Cell-in Delivery Technology, to optimise the bioavailablility of active ingredients.
Growth

COGNITIVE DEVELOPMENT

BONE DEVELOPMENT
Nutritional analysis
Per stick
RI*
Colostrum
Choline
150 mg
75 mg
-
-
Vitamin A
Vitamin B1
Vitamin B2
Vitamin B3
Vitamin B5
Vitamin B6
Vitamin B8
Vitamin B9
Vitamin B12
Vitamin C (Ester-C®)
Vitamin D3
Vitamin E
160 µg
0,5 mg
0,5 mg
6 mg
2,5 mg
0,5 mg
25 µg
100 µg
1 µg
40 mg
10 µg
6 mg
20%
45%
36%
37%
42%
36%
50%
50%
40%
50%
200%
50%
Calcium
Iron
Iodine
Zinc
Manganese
Selenium
Chromium
120 mg
5,6 mg
30 µg
3 mg
0,5 mg
12,5 µg
20 µg
15%
40%
20%
30%
25%
23%
50%
Phyto-Matrix™
of which polyphenols
120 mg
28 mg
-
-
*RI - Reference intake
Ultra Kids 6-12 Direct is a food supplement reserved for children from 6 years.
1 daily stick, to be taken straight without water, preferably in the morning after breakfast. Pour the contents of the stick directly onto the tongue.
14-day programme, renewed several times throughout the year if necessary.
The bonus? Very practical presentation, easy to carry and needs no water!
BIOFAR Direct products are sugar-free, aspartame-free, free-from artificial coloring and and have a pleasant fruity taste.
Ask your pharmacist or doctor for advice.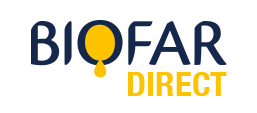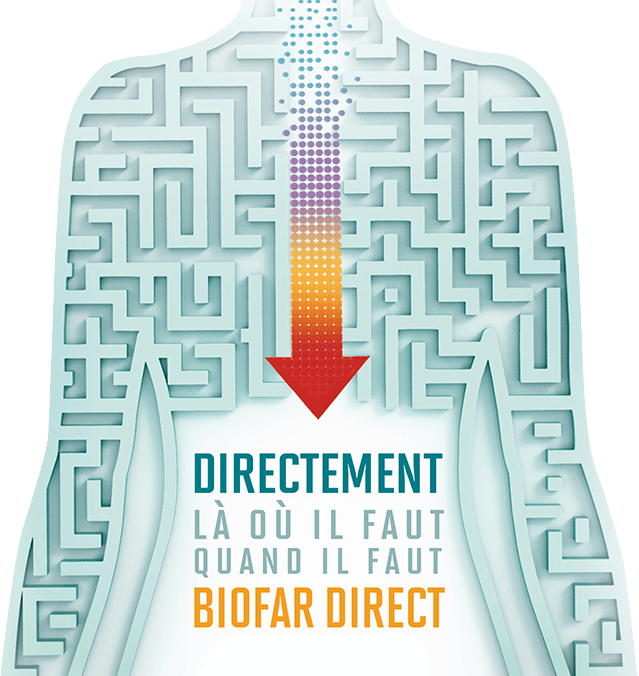 BIOFAR DIRECT
IS THE CHOICE OF A PRACTICAL
STICK FORM FOR:
EASY TO TAKE, NO WATER REQUIRED
A NATURALLY FRUITY TASTE
TARGETED EFFECTIVENESS