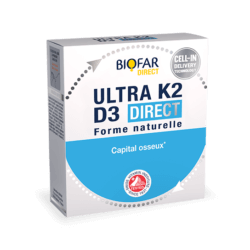 Our bones are constantly restructuring, daily care is important. Certain periods are particularly crucial, such as growth or ageing, since the needs of our skeleton are increased. Take care of your bones with Laboratoires Biofar thanks to "Ultra K2-D3 Direct" for you, a synergistic formula with a pleasant fruity taste, specially designed for strong and healthy bones.
A highly bioavailable combination of vitamins K2, D3 and C for optimum efficiency... Laboratoires Biofar have put together the necessary elements to support your skeletal system! Indeed, vitamins K2 and D3 help maintain normal bone structure and vitamin C contributes to collagen formation to ensure bone, tooth and cartilage function.
Natural form fresh vitamin K2 (Menaquinone-7).
A unique combination of vitamins K2 and D3 for greater bone density than single-ingredient formulas.
Exclusive innovation: Cell-in Delivery Technology, to optimise the bioavailablility of active ingredients.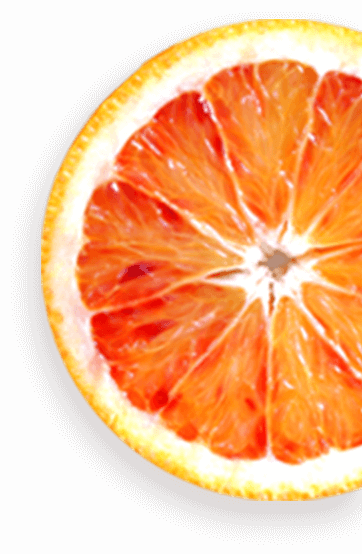 BONE REINFORCEMENT

COLLAGEN FORMATION

TEETH

CARTILAGE
Nutritional analysis
Per stick
RI*
Vitamin K2 (Menaquinone-7)
Vitamin D3
Vitamin C
75 µg
10 µg
80 mg
100%
200%
100%
Phyto-Matrix™
of which polyphenols
120 mg
28 mg
-
-
*RI - Reference intake
Ultra K2-D3 Direct is a food supplement reserved for adults.
1 daily stick, to be taken straight without water, preferably in the morning after breakfast. Pour the contents of the stick directly onto the tongue.
14-day programme, renewed several times throughout the year if necessary.
The bonus? Very practical presentation, easy to carry and needs no water!
BIOFAR Direct products are sugar-free, aspartame-free, free-from artificial coloring and and have a pleasant fruity taste.
Ask your pharmacist or doctor for advice.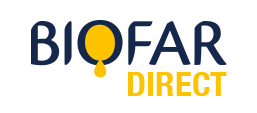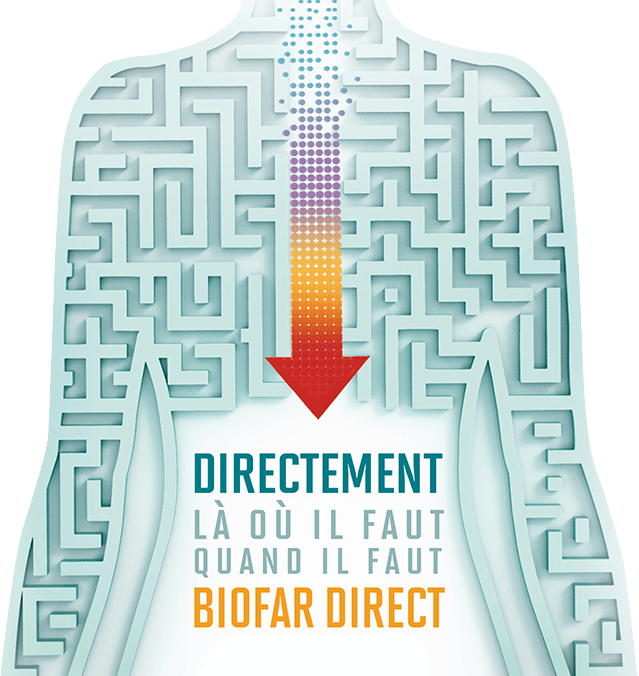 BIOFAR DIRECT
IS THE CHOICE OF A PRACTICAL
STICK FORM FOR:
EASY TO TAKE, NO WATER REQUIRED
A NATURALLY FRUITY TASTE
TARGETED EFFECTIVENESS