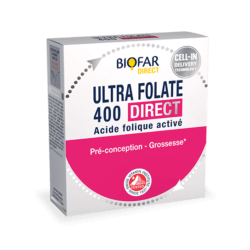 Pre-conception and pregnancy
Pregnancy requires special attention for both the mother and future baby. Indeed, nutritional needs change and the help of a food supplement may be necessary to handle with this period in peace. This is particularly the case for folate, whose requirements increase one month before conception and are maintained during the first months of pregnancy for good health of the baby. Laboratoires BIOFAR have developed "Ultra Folate 400 Direct" for you; a synergistic formula with a pleasant fruity taste, to accompany you in your planned pregnancy.
An optimum and highly bioavailable dosage of active folate, meeting the daily needs of women of childbearing age and pregnant women, combined with other vitamins, selenium, zinc and iodine. Laboratoires BIOFAR have put together the necessary elements to ensure that your pregnancy progresses smoothly and for the health of your baby. Indeed, folate and zinc are involved in cell division, a crucial step in baby's development.
An active form of next-generation folate (Quatrefolic®) for better bioavailability.
A synergistic combination of minerals and vitamins.
Exclusive innovation: Cell-in Delivery Technology, to optimise the bioavailablility of active ingredients.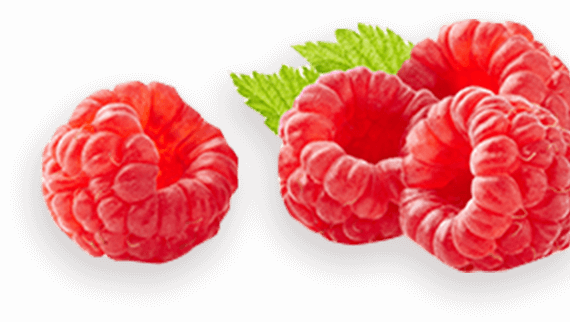 THE DESIRE TO HAVE CHILDREN

PREGNANCY

FOETAL DEVELOPMENT
Nutritional analysis
Per stick
RI*
Vitamin B6
Vitamin B9 (Quatrefolic®)
Vitamin B12
Vitamin C
Vitamin D3
Vitamin E
1,4 mg
400 µg
2,5 µg
80 mg
5 µg
12 mg
100%
200%
100%
100%
100%
100%
Selenium
Zinc
Iodine
50 µg
10 mg
150 µg
91%
100%
100%
Phyto-Matrix™
of which polyphenols
120 mg
28 mg
-
-
*RI - Reference intake
Ultra Folate 400 Direct is a food supplement reserved for adults.
1 daily stick, to be taken straight without water, preferably in the morning after breakfast. Pour the contents of the stick directly onto the tongue.
Start the programme at least 1 month before conception and continue until 3 months thereafter.
The bonus? Very practical presentation, easy to carry and needs no water!
BIOFAR Direct products are sugar-free, aspartame-free, free-from artificial coloring and and have a pleasant fruity taste.
Ask your pharmacist or doctor for advice.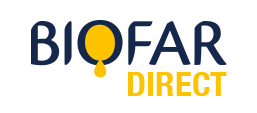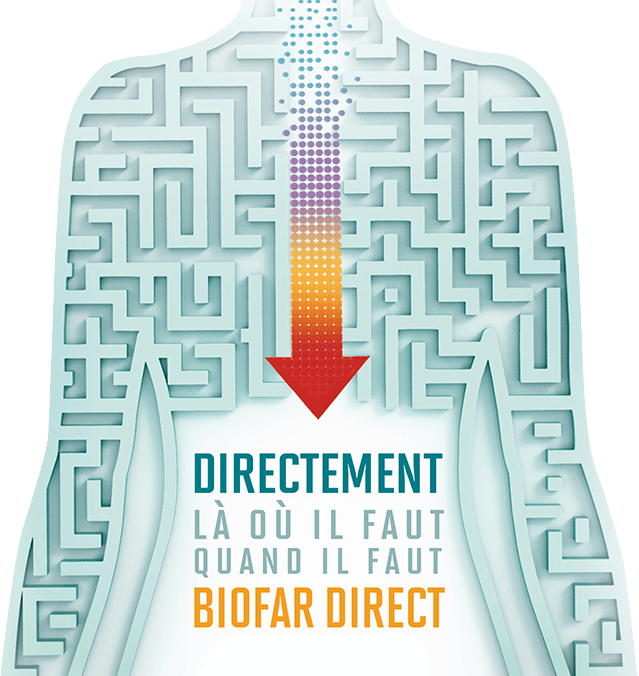 BIOFAR DIRECT
IS THE CHOICE OF A PRACTICAL
STICK FORM FOR:
EASY TO TAKE, NO WATER REQUIRED
A NATURALLY FRUITY TASTE
TARGETED EFFECTIVENESS