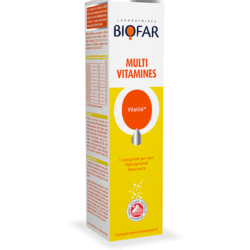 Work, sport, family... Keeping pace is not always easy with a busy daily schedule. Need a boost or just need to regain your natural vitality? Laboratoires BIOFAR have developed "Multivitamins" for you, a rich formula with a pleasant citrus taste, to replenish your energy.
Optimum and balanced dosages... BIOFAR Laboratories have gathered the necessary vitamins for your daily vitality. Indeed, the active ingredients in this formula help reduce fatigue (vitamins B2, B3, B5, B6, B9, B12 and C) and promote normal energy metabolism (vitamins B1, B2, B3, B5, B6, B8, B12 and C).
A vitamin-rich formula.
Optimum vitamin dosages.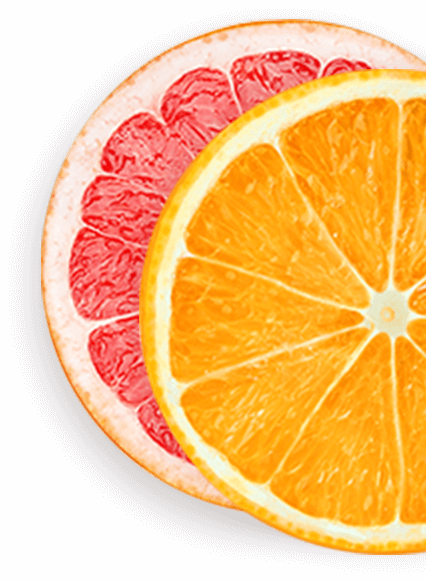 FATIGUE

SMOKERS

MALNUTRITION
Nutritional analysis
Per tablet
RI*
Vitamin A
Vitamin B1
Vitamin B2
Vitamin B3
Vitamin B5
Vitamin B6
Vitamin B8
Vitamin B9
Vitamin B12
Vitamin C
Vitamin D3
Vitamin E
800 µg
1,4 mg
1,6 mg
18 mg
6 mg
2 mg
150 µg
200 µg
1 µg
60 mg
5 µg
10 mg
100%
127%
114%
113%
100%
143%
300%
100%
40%
75%
100%
83%
*RI - Reference intake
Multivitamins is a food supplement reserved for adults.
1 daily tablet dissolved in a large glass of water, preferably in the morning after breakfast.
The bonus? Just one daily tablet for more vitality!
Biofar Vital products are sugar-free, aspartame-free, colour-free and have a pleasant fruity taste.
Ask your pharmacist or doctor for advice.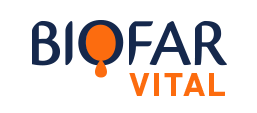 BIOFAR VITAL
IS THE CHOICE OF
EFFERVESCENCE FOR:
GREATER INGREDIENT CONCENTRATION
GREATER BIOAVAILABILITY
FASTER ACTION