Our children are continually burning energy at school, during activities, and simply for their growth. To promote their growth, Laboratoires BIOFAR have developed "Multivitamins Kids" a rich and complete formula with a natural strawberry taste, specially designed for your children.
Optimum and balanced dosages, vitamins essential for children, organic minerals (calcium, zinc), etc. Laboratoires BIOFAR have put together the elements necessary for the daily vitality of your child. Specifically:
calcium and Vitamin D are needed for growth and normal bone,
iodine contributes to normal cognitive development in children.
A child-specific formula.
Optimum dosages.
With organic minerals.
With a delicious natural fresh strawberry aroma.
Growth

INABILITY TO CONCENTRATE
Nutritional analysis
Per tablet
RI*
Vitamin A
Vitamin B1
Vitamin B2
Vitamin B3
Vitamin B5
Vitamin B6
Vitamin B8
Vitamin B9
Vitamin B12
Vitamin C
Vitamin D3
Vitamin E
400 µg
0,7 mg
0,8 mg
9 mg
3 mg
1 mg
75 µg
100 µg
0,5 µg
30 mg
2,5 µg
5 mg
50%
63%
57%
56%
50%
71%
150%
50%
20%
37%
50%
41%
Calcium
Zinc
Iodine
125 mg
2,5 mg
100 µg
16%
25%
67%
*RI - Reference intake
Multivitamins Kids is a food supplement suitable for children from 6 years.
1 daily tablet dissolved in a large glass of water, preferably in the morning after breakfast.
The bonus? One tablet per day for healthy growth!
Biofar Vital products are sugar-free, aspartame-free, colour-free and have a pleasant fruity taste.
Ask your pharmacist or doctor for advice.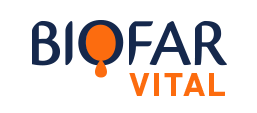 BIOFAR VITAL
IS THE CHOICE OF
EFFERVESCENCE FOR:
GREATER INGREDIENT CONCENTRATION
GREATER BIOAVAILABILITY
FASTER ACTION