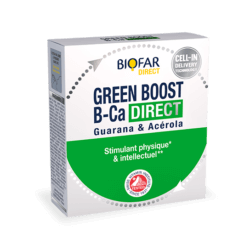 To stimulate your physical and intellectual energy
Physical and nervous fatigues are frequently associated... Do not let them disrupt your activities! Laboratoires BIOFAR have developed "Green Boost B-Ca Direct" for you, a rich and complete formula with a pleasant fruity taste, to help you regain your physical and intellectual energy!
A combination of guarana and acerola extracts, L-theanine, vitamins B and C, calcium, magnesium, zinc and taurine for optimum effect... Laboratoires BIOFAR have put together the necessary elements to combat your physical and intellectual fatigue.
A unique combination fresh L-theanine et de caffeine to improve cognitive performance and alertness.
A rich formula to preserve your intellectual performance and your energy.
Exclusive innovation: Cell-in Delivery Technology, to optimise the bioavailablility of active ingredients.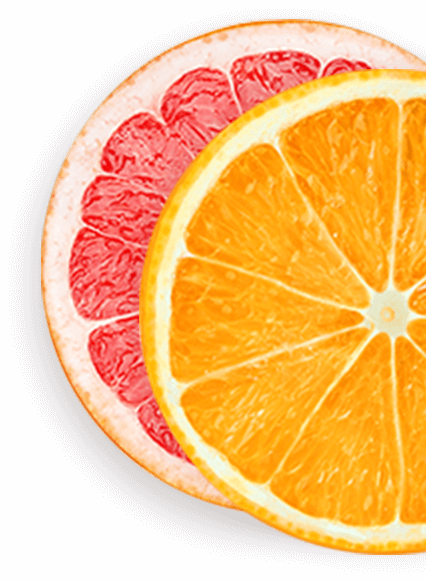 NERVOUSNESS

FATIGUE

PERFORMANCE NEEDS

INABILITY TO CONCENTRATE
Nutritional analysis
Per stick
RI*
Guarana extract
Acerola extract
80 mg
80 mg
-
-
Total caffeine
L-theanine
Taurine
75 mg
100 mg
75 mg
-
-
-
Vitamin B1
Vitamin B2
Vitamin B3
Vitamin B5
Vitamin B6
Vitamin B8
Vitamin B9
Vitamin B12
Vitamin C
1,6 mg
2,1 mg
24 mg
9 mg
2,1 mg
75 μg
300 μg
3,7 μg
80 mg
150%
150%
150%
150%
150%
150%
150%
150%
100%
Calcium
Magnesium
Zinc
120 mg
120 mg
10 mg
15%
32%
100%
Phyto-Matrix™
of which polyphenols
120 mg
28 mg
-
-
*RI - Reference intake
Green Boost B-Ca Direct is a food supplement reserved for adults.
1 daily stick, to be taken straight without water, preferably in the morning after breakfast. Pour the contents of the stick directly onto the tongue.
14-day programme, renewed several times throughout the year if necessary.
The bonus? Very practical presentation, easy to carry and needs no water!
BIOFAR Direct products are sugar-free, aspartame-free, free-from artificial coloring and and have a pleasant fruity taste.
Ask your pharmacist or doctor for advice.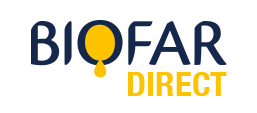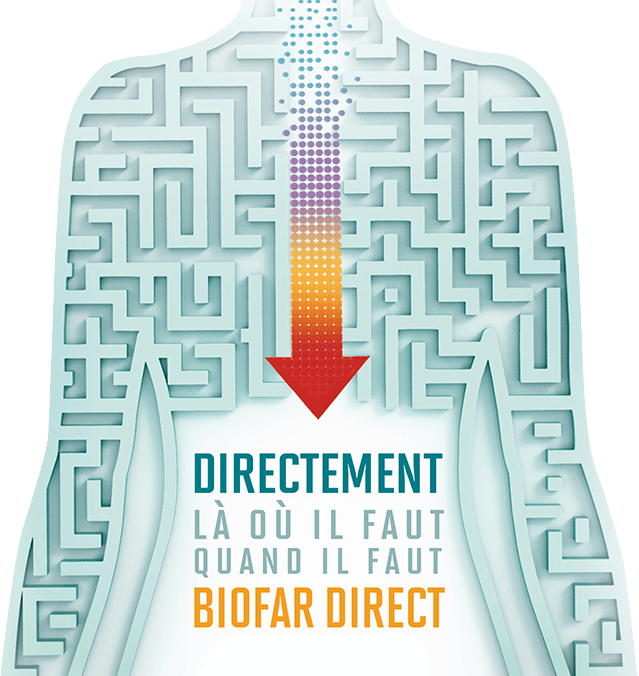 BIOFAR DIRECT
IS THE CHOICE OF A PRACTICAL
STICK FORM FOR:
EASY TO TAKE, NO WATER REQUIRED
A NATURALLY FRUITY TASTE
TARGETED EFFECTIVENESS