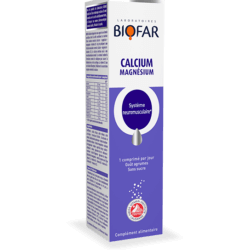 After physical effort, muscle fatigue is never far away. Do you want strong bones and healthy muscles? Laboratoires Biofar have developed "Calcium Magnesium" for you; a rich and synergistic formula with a pleasant citrus taste, to support your neuromuscular system and help strengthen your bones.
Optimum balanced doses of minerals from organic sources (calcium, magnesium, zinc, etc.), vitamins D3, B6, C, etc. Indeed, calcium, magnesium and vitamin D3 help maintain normal bone structure and normal muscle function.
A synergistic formula.
Optimum and balanced mineral ratios.
With minerals from organic sources.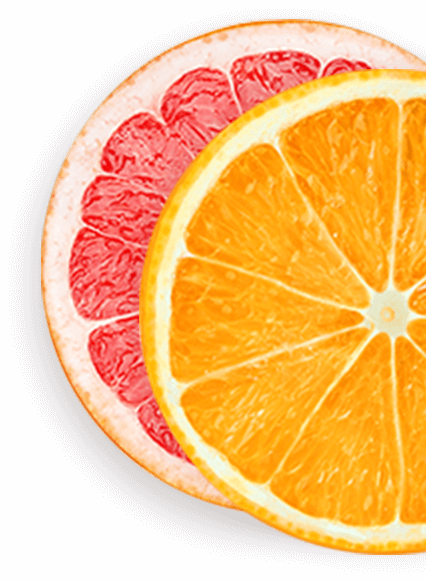 BONE REINFORCEMENT

MUSCLE FATIGUE

REMINERALISING
Nutritional analysis
Per tablet
RI*
Calcium
Magnesium
Zinc
Manganese
Copper
250 mg
125 mg
7,5 mg
1 mg
1 mg
31%
33%
75%
50%
100%
Vitamin B1
Vitamin B2
Vitamin B6
Vitamin B12
Vitamin C
Vitamin D3
0,7 mg
0,8 mg
1 mg
0,5 µg
60 mg
2,5 µg
64%
57%
71%
20%
75%
50%
*RI - Reference intake
Calcium Magnesium is a food supplement reserved for adults.
1 daily tablet dissolved in a large glass of water, after the evening meal.
The bonus? One daily tablet for bones and muscles!
Biofar Vital products are sugar-free, aspartame-free, colour-free and have a pleasant fruity taste.
Ask your pharmacist or doctor for advice.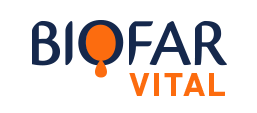 BIOFAR VITAL
IS THE CHOICE OF
EFFERVESCENCE FOR:
GREATER INGREDIENT CONCENTRATION
GREATER BIOAVAILABILITY
FASTER ACTION