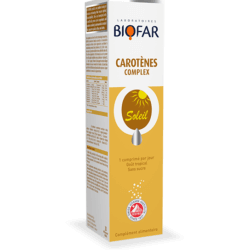 Summer is coming, and with it our fervour to get out under the sun! The skin's normal pigmentation must be preserved, and it is essential to provide protection against cell ageing. Laboratoires Biofar have developed "Carotenes Complex" for you, a synergistic formula with a pleasant tropical fruit taste. And if you want to know more, it's here.
Optimum and balanced dosages of active ingredients to pigment the skin and protect it from the oxidative stress caused by UV radiation, 100% organic minerals... Laboratoires BIOFAR have put together the necessary elements to prepare your skin for the sun. Indeed, vitamins C and E, along with the minerals (zinc, selenium) contained in "Carotenes Complex", help protect cells from oxidative stress. Copper contributes to normal skin pigmentation.
A highly dosed and balanced formula.
Pigmenting and antioxidant active ingredients.
Optimum bioavailability.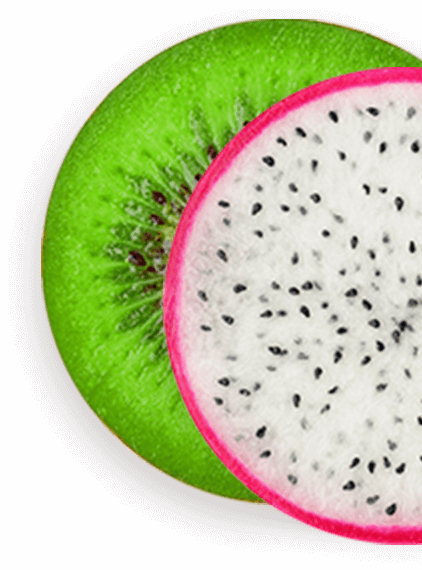 SUN TANNING

ANTIOXIDANT

SUN-SENSITIVE SKIN
Nutritional analysis
Per tablet
RI*
Beta-carotene
either Vitamin A
Vitamin B1
Vitamin B2
Vitamin B3
Vitamin B5
Vitamin B6
Vitamin B8
Vitamin B9
Vitamin B12
Vitamin C
Vitamin E
4,8 mg
800 µg ER
1,1 mg
1,4 mg
16 mg
6 mg
2 mg
100 µg
200 µg
2,5 µg
80 mg
12 mg
-
100%
100%
100%
100%
100%
143%
200%
100%
100%
100%
100%
Calcium
Zinc
Copper
Selenium
200 mg
10 mg
1 mg
50 µg
25%
100%
100%
91%
Lutein
Lycopene
1 mg
1 mg
-
-
*RI - Reference intake
Carotenes Complex is a food supplement reserved for adults.
1 daily tablet dissolved in a large glass of water, preferably in the morning after breakfast. Programme to begin 20 days before sun exposure and continue during and after exposure with a pleasant citrus taste.
The bonus? One daily tablet for your sun exposure!
Biofar Vital products are sugar-free, aspartame-free, colour-free and have a pleasant fruity taste.
Ask your pharmacist or doctor for advice.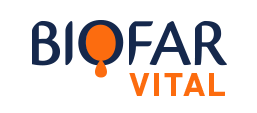 BIOFAR VITAL
IS THE CHOICE OF
EFFERVESCENCE FOR:
GREATER INGREDIENT CONCENTRATION
GREATER BIOAVAILABILITY
FASTER ACTION